Can Air to Water Heat Pumps Work in Cold Weather?
Views:87 Author:Site Editor Publish Time: 2018-09-21 Origin:Site
As it is approaching winter, the demand for heat pump water heaters will increase considerably compared to spring, summer and autumn. For the domestic water heater industry, air source water heaters are becoming more and more popular due to its energy-saving and safety advantages. But some netizens have been questioning on this type of new energy heat pumps. For example, they are wondering if air to water heat pumps would work in cold weather.
When choosing a heat pump, you need to consider the lowest temperature of your area. It is true that air-source heat pumps use air to produce hot water. And it is also true that, when the temperature is lower than -10℃, because the temperature is too low, the heating capacity of ordinary air source heat pumps and water heaters would decrease. However, it is biased to say that air to water heat pumps can not be used at low temperatures.
With the progress of heat pump technology, low-temperature air-source heat pump products have been developed, which apply the latest advanced Enhanced Vapors Injection compressor technology to solve the problem of low heating efficiency in cold area. This type of heat pumps are called EVI heat pumps.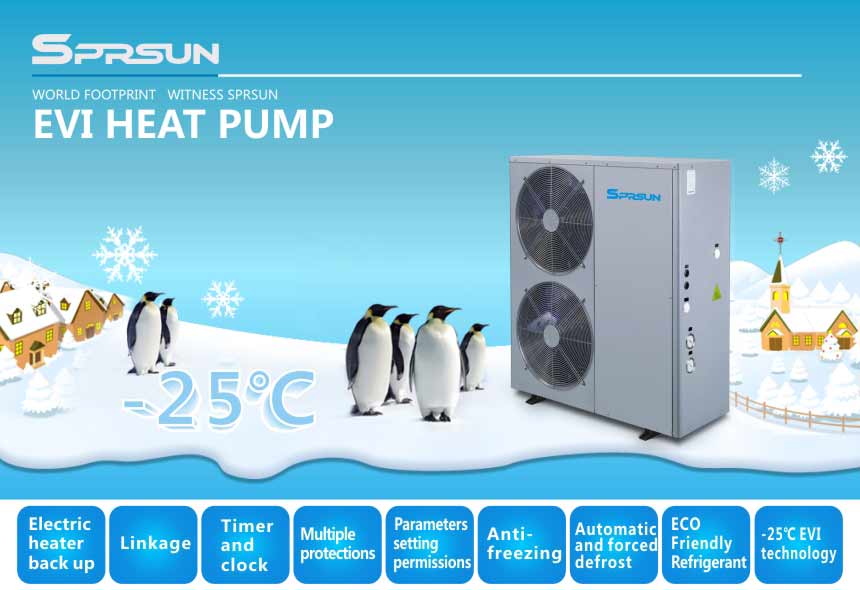 In North Europe and other cold climate regions, EVI air to water heat pumps have been successfully used to achieve ultra-low temperature house heating and hot water supply. Therefore, low temperature environment is no longer the drawback of air source products in the northern market.
Sprsun EVI air source heat pump are designed especially for domestic hot water and house heating in the cold area where lowest air temperature reaches -25℃. For detailed product features, please view our EVI Air to Water Heat Pumps.