New SPRSUN EVI Inverter Heat Pumps Attract Attention at Intersolar 2019
Views:109 Author:Site Editor Publish Time: 2019-05-16 Origin:Site
SPRSUN, a professional heat pump manufacturer founded in 1999, attends the 2019 Intersolar exhibition from May 15th to 17th, with its new EVI air source inverter heat pumps for cold area heating and cooling. On the first day of the exhibition, SPRSUN heat pumps receive a lot of attention and inquiries from potential customers. To deliver excellent products and service, SPRSUN Team offers a great promotional campaign for 2019 Intersolar Exhibition.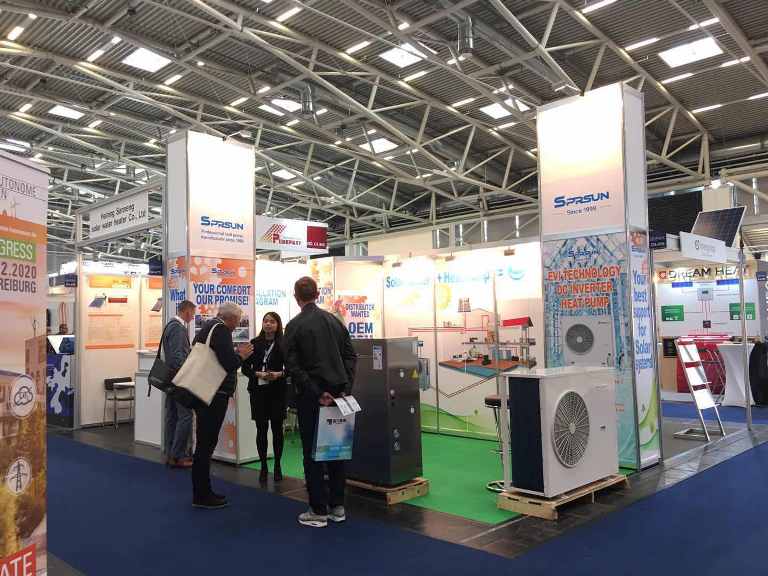 About Intersolar 2019 Promotion
$300 USD E-coupons
From May 15th to May 31st, 2019, visitors can login SPRSUN website (www.sprsunheatpump.com) and get the $300 USD E-coupons by filling in your contact details. One $300 USD E-coupon can be used for heat pump orders of $4000 or above; two E-coupons for $8000+; no limits for E-coupon quantity. E-coupon is valid for heat pump orders confirmed and paid before June 30th, 2019.
Extended Warranty
For orders confirmed before June 30th, 2019, the warranty period will be extended from 18 months to 24 months for free.
Sample Cost Returned
For new customers, the sample cost value can be deducted from your future orders as maximum 10% of the total heat pump ordering amount, and there is no time limit.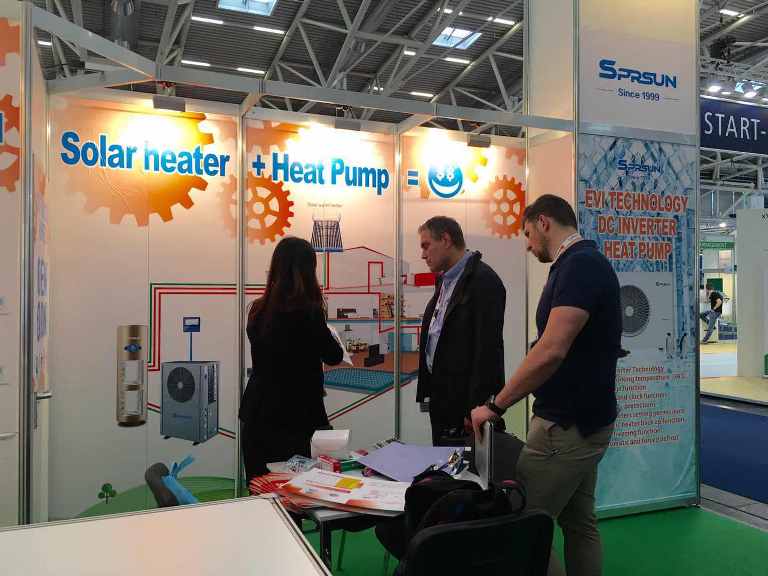 About EVI Inverter Heat Pumps
SPRSUN low temperature EVI inverter air source heat pumps are designed for house heating and cooling in cold weather where lowest air temperature reaches -25℃, with the following important features:
Low Ambient Temperature (-25℃~43℃) :
Because of the Enhanced Vapour Injection (EVI) technology scroll compressor, EVI air source heat pump can work stably in the low temperature condition.
Improved Heating Efficiency:
When the temperature reaches the set value, it will automatically change to low frequency operation mode, and the effect of energy saving is remarkable.
Reduced Defrosting Time:
The frequency converter enables the EVI inverter air source heat pump to automatically adjust the compressor operating frequency according to the ambient temperature. When the unit needs defrosting, it will use high frequency operation, which greatly reduces the defrosting time and thus improves the heating efficiency.
Constant Indoor Temperature:
SPRSUN EVI inverter heat pumps can operate in the range of 30Hz to 70Hz, output and utilize heat energy according to the environment and the set temperature. Inverter heat pumps can maintain the set temperature with a lower operating frequency after reaching the set temperature and will not frequently start or turn off.