SPRSUN DC Inverter Heat Pumps Rated ERP A+++ Energy Level
Views:384 Author:Site Editor Publish Time: 2020-03-19 Origin:Site
SPRSUN recently launched a new series of DC inverter air source heat pumps, which was tested by TÜV SÜD and rated ERP A+++ Energy Level. Founded in 1866, TÜV SÜD is one of the world's leading technical service provider of product testing, certification and inspection. This technological breakthrough achieved by SPRSUN engineering team instill confidence in the customers about our products' safety, quality and sustainability attributes.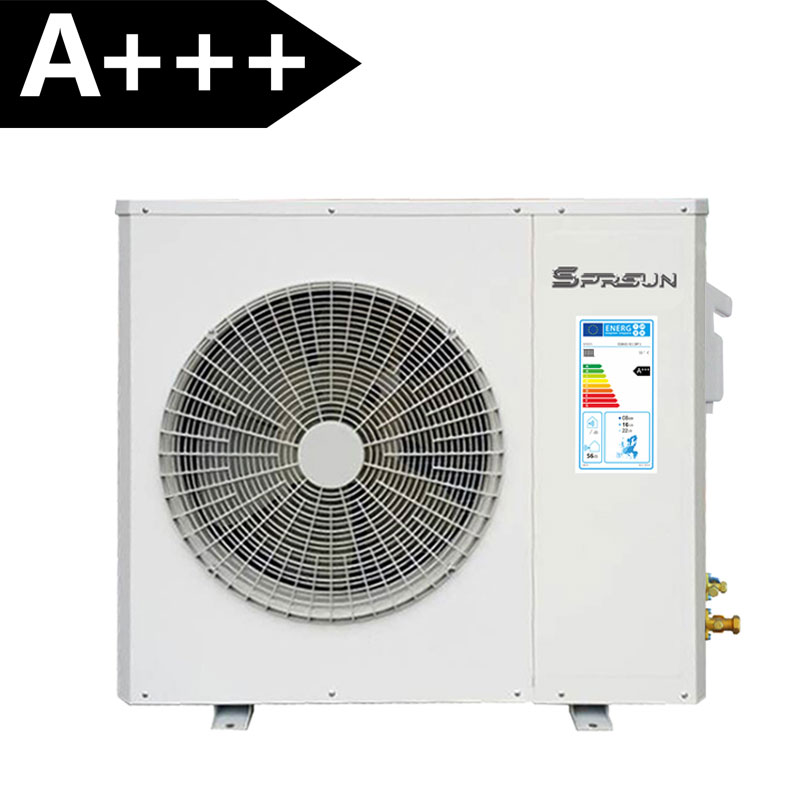 What Does A+++ Energy Label Stand for?
ERP energy label, established by EU Directive, is designed to improve the efficiency of energy-related products. The energy efficiency of appliances such as room heaters and water heaters is categorized into various efficiency classes from A to G on the label, A being the most energy efficient, G the least efficient. The best energy efficiency class so far is A+++.
The energy labels provide helpful information to the customers as they choose between various models or brands. Thus, heating and/or DHW heat pumps that are furnished with a standard European Energy Label of A+++ represents high COP and low energy consumption.
Highlights in SPRSUN DC Inverter Heat Pumps
With heating capacity ranging from 9.5KW to 18.6KW, SPRSUN Monoblock DC Inverter Air Source Heat Pumps are designed as a multi-function appliance that provides domestic hot water, room heating and cooling. They combine the functions of a DHW heater, a house heater and a room cooler within one heat pump unit, which can save a lot of future energy and maintenance costs for customers. Following are the main features of our new DC inverter hat pumps:
Higher Energy Efficiency
Achieving the ERP A+++ energy class, our DC inverter heat pumps save energy by more than 30% compared with other ordinary air source heat pumps. The maximum COP of SPRSUN DC inverter heat pumps reaches 5.65!
Low Noise
With Panasonic rotary compressor and DC inverter brushless fans, our DC inverter heat pumps adopt new noise reduction measures so that the sound of the unit is controlled at a satisfactory level.
Smart Control
The intelligent CAREL controller with RS485 WIFI APP is adopted to realize the linkage control between the heat pump unit and the terminal application end. With the Cascade function, multiple units can be controlled with one panel.
Wide Voltage Application
The DC Inverter Air Source Heat Pumps operate normally within the voltage range of 150V-260V (1ph) or 330V-450V (3ph) to reduce the impact of voltage instability on the environment.
Intelligent Defrosting
The smart defrosting technology makes optimal defrosting decisions to minimize energy consumption and improve customer satisfaction.
Warranty
SPRSUN offers 24-month long warranty. Within 24 months since the delivery date, if the product has any failure under normal usage, SPRSUN will provide free assembly parts. After the expiration of the warranty period, we will continue to provide lifelong maintenance services, with just a small amount of charges.
For more information about our new DC Inverter Air Source Heat Pumps, please visit:
https://www.sprsunheatpump.com/DC-Inverter-Heat-Pumps-pl530084.html